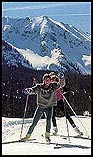 Montrose Colorado Online is your complete source for Lodging, Activities, Real Estate, and Information regarding Montrose Colorado.
Montrose offers many adventures, scenic wonders and outdoor activities to fill your day. From the Black Canyon National Monument's shear granite walls, to the lakes, streams, and primitive back roads of the San Juan's and the Uncompahgre Plateau, you'll discover a variety of exciting activities fill your day. Rafting, hiking, biking, 4-wheeling, skiing, and fine dining are all available to you to quench your thirst for adventure. Come experience the good life, come visit us here in beautiful Montrose Colorado.
---
Area Attractions - Real Estate - Lodging - Black Canyon - Southwest Map - Weather
Virtual Tour - Recreation - Yellow Pages - Events Calendar - Local Links - Stats & Info
Copyright 1997 - 2007 Great Western Electronics Inc.