Montrose Regional Airport
Located on the north edge of the city of Montrose, the airport is just five minutes from the heart of the town. Residents can be very proud of the facility that is quite unusual for a town of just over 10,000 residents. There is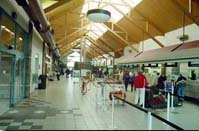 seating for 120 people in the secure area (through metal detectors) and seating for 100 more outside the secure area with more room available when it is needed. Conveyors and automatic baggage handling is installed. The main commuter airline is United Express, with others,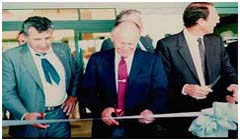 including jet service during ski season. General Chuck Yeager was on hand in June of 1988 for the dedication ceremonies. Yeager, in the center, is pictured with Senator Ben Night horse Campbell on the left, and Tom Dutcher who served on the airport board to the right. At the entrance to the a. Airport along U.S. highway 50 is this Corsair
A-7 which Montrose is proud to have gotten from the Colorado National Guard. The Corsair, nicknamed the "Double Nickel" because of its official number (055) won the 1981 "Gun smoke" competition at Nellis Air Force Base piloted by "Top Gun" Lt. Col. Wayne Schultz. The competition tests the best units in the U.S. Air Force, Air Force Reserve and Air National Guard. Colorado won the Top Team award in 1981. In the background, you can see "Flattop" which provides a good view of the city and hosts the antennas for Montrose's local T.V. station, KREY.